Two weeks ago, you were asked if you were ready to en*gage : your peers, your knowledge, yourself, with the opportunity to attend a Bloggy Boot Camp, in Denver or Atlanta. Your response was overwhelming both here on Mom Got Blog and also at SITS.
What is en*gage? Well, it is an idea that grew from my own attendance at the Boston Bloggy Boot Camp. I was so empowered from this one day conference that I felt compelled to give back to my fellow bloggers. I wasn't sure how I would do it, but I knew that I wanted a blogger, or someone thinking about becoming a blogger, to experience this fantastic event.  To engage with others who understood the world of blogging, who wanted to learn more about the ins and outs of this platform and to invest in themselves, to validate their passions.
I made my first advertising sale and I thought, why not take a portion and use that to give back?
I totally get that costs are most often a deterring factor. So, I decided to try to make it a bit easier for attendees by offering a free ticket. I know it is not a hotel room and I know it's not a plane ticket or gas or tolls, it is what I could offer. Think of it as extra funds to put toward those other expenses.
And the SITS girls were so supportive of this idea, they got right on board to help!  
And as I mentioned above: your response was overwhelming! I wish I could send ALL of you to a Boot Camp Conference, I really, really do!
I'm hoping this is just the beginning! Maybe if more sales come through, I can offer this again in the future and grow this program…but for now, we will keep it at baby steps.
The important thing is that TWO Bloggers will be going to Bloggy Boot Camp and will be able to engage with their peers, their knowledge, themselves!
I read through each entry and honestly, it was too hard to choose! I went to Random.org and had a fair and unbiased choosing!
Based on the the folks that responded, we had 6 respond for Denver, 25 for Atlanta and 10 that chose "either one" or did not indicate a preference. I input 16 into Random for Denver and 35 for Atlanta. To switch things up a bit, I counted from the bottom of the spreadsheet up to the top…
So excited!!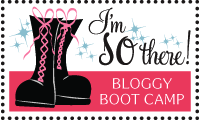 This is the result:
Denver Bloggy Boot Camp :
True Random Number Generator
14  
Atlanta Bloggy Boot Camp: 
True Random Number Generator
7
Here is the winner of a free Denver Bloggy Boot Camp ticket (Sept. 17th):
Michelle, from Fun On a Dime! Here is what Michelle's comment said:
 I would love to attend BLOGGY Boot Camp to further my knowledge. I'm a type of person that learns so much more from seeing it in action and I think a conference will help me really put that all in to perspective. I would love to engage with other bloggers and make some new friends. I sometimes feel I am in a world of my own with blogging. Most of my friends don't have blogs and probably think I'm a bit crazy. lol I've never been, so it would be sooooo much fun to have an opportunity.

I'd prefer the Denver, but open to either. Thanks for the opportunity!
Congratulations Michelle!!
And the winner of the Atlanta Bloggy Boot Camp ticket (Oct. 22nd):
Shell, from Things I Can't Say! Here is what Shell had to say in her comment:
I want to go to BBC b/c I love the smaller atmosphere of it. I went to BBC Baltimore about a year and a half ago and I feel like I want a redo. I was just starting out and I felt overwhelmed. I'd love to see what it's like now.

I'd go to Atlanta.
Congratulations Shell!!
Again, I want to thank all of you for entering in this giveaway and a HUGE Thank you to Tiffany and Fran of the SITS Girls for letting me run with this idea and supporting it from the get go!!
**SITS Girls are providing (1) free ticket to Denver BBC and Mom Got Blog is offering (1) free ticket to Atlanta BBC.